Skip to Content
Decorative Landscaping in Ogden, Utah
Large Assortment of Landscaping Materials
Portable Concrete
High Quality, Portable, And Affordable
Sandee's Delivery
We Can Deliver to Your Home or Business
High-Quality Landscaping Materials in Ogden, UT
Decorative Landscaping Materials at Sandee's Soil & Rock
When you want to beautify the exterior of your Ogden, UT home, or business, Sandee's Soil & Rock is the team to call. We offer a large assortment of landscaping materials to meet your aesthetic and functionality needs, as well as enrich your properties landscaping. Every property owner understands the heightened curb appeal that quality landscaping solutions can deliver. And we've spent nearly two decades providing the area with the high-quality services and products that set our customers' lawns apart from others in the area. To us, complete customer satisfaction is all in a day's work. With the values of a family-owned business, we work hard to provide caring and thorough customer service so you can receive the very best landscaping options. The condition of your landscape is often the first impression people receive of your property. Make sure yours is dressed to impress by relying on our seasoned team and gorgeous landscaping materials. Contact us today to learn more or pull into our yard and we'll set you up with the products you need.
An Overview of the Landscaping Products We Offer
As a company dedicated to serving our community with high-quality landscaping materials, we do everything we can to provide products and services that go above and beyond our customers' expectations. No matter which one of our products you choose, we guarantee to enhance the look of your landscape's flowerbeds, trim, walkways, and other decorative areas. Below are the products we offer to keep your property gorgeous year-round:
• Decorative Rock – When you're looking for a landscaping material to add some vibrance to your yard without sacrificing on functionality, rock is a great choice. We offer a large assortment of natural aggregates, so you'll never have to sacrifice on the shade, hue, or style you want.
• Topsoil – As a nutrient-rich and cost-effective landscaping material, quality topsoil is essential to successfully growing flowers, shrubbery, trees, and various other plants around your property. No matter what type of high-quality topsoil your project calls for, we can help.
• Bark – Bark mulch is an inexpensive way to add a pop of color and texture to the flowerbeds, walkways, trees, shrubs, and various other aspects of your property's landscape. Our bark mulch is made from tree bark that we shred ourselves, so you know you're getting the most reliable end product.
• Sand – Whether you choose sand as a leveling material or the ideal foundation for creating the Zen garden of your dreams, we can assist. Our team will help select the right kind of sand for your project so you can feel confident in your purchase.
• Gravel – This landscaping material has been used for decades, offering a durable top cover for your sod that allows for aeration and water solubility into your soil. This is a popular option among property owners due to its versatility.
• Concrete – We proudly offer quality concrete mixes, cart rentals, and aggregates to ensure your next construction project is as hassle-free as possible. Our portable concrete carts will help you save both time and money, without compromising on a professional, high-quality finish.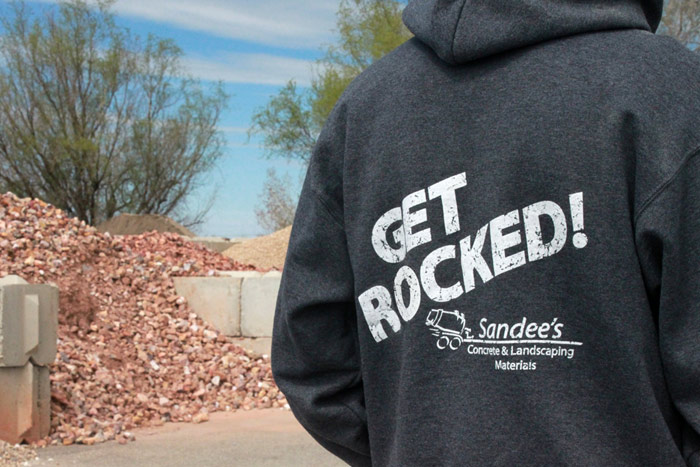 Sandee's "GET ROCKED" Team
As locals' preferred choice for high-end landscaping materials, we've gained a reputation throughout the years for being a considerate, friendly, and respectful team. We pride ourselves on our work ethic, and customers love our passion and commitment to their landscape. Don't rely on an inexperienced landscaping company to deliver the high-quality decorative materials your yard needs. We treat your landscape as if it was our own, paying attention to any little details and ensuring a clean work environment. By providing a broad, cost-effective selection of materials in one place, we work hard to simplify your yard care experience.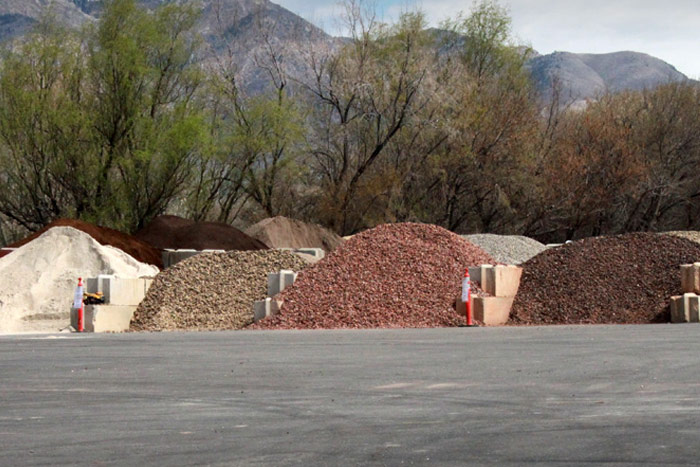 About Us
Sandee's Soil & Rock was established in 2001 with hopes to provide convenient landscaping services and products that would meet the needs of everyday property owners. As a company that started out with only six products and one dump truck for deliveries, we now offer more than 40 products and a whole range of truck options to suit our customers' needs. To us, there's no greater satisfaction than delivering the products and solutions that help take your home or business' landscape to the next level. Whether it's a topsoil job for your home's flowerbeds, gravel walkway installation, or you need to have one of our products delivered right to your door, we do it all. Nearly two decades later, and we're proud to say our services have helped build and beautify the Ogden community "one yard" at a time.
Contact Us Now to Get Started!
If you're looking to add color, depth, and vibrance to your commercial or residential property, the seasoned landscaping team here at Sandee's Soil & Rock would be happy to help. Every property owner could benefit from the incorporation of fertile soil, decorative rock, or one of our other gorgeous products to complement the plants, shrubs, or trees on their lawn. You can even utilize our materials calculator and helpful staff to ensure you're all set up with the solutions you need. When you're ready to find the perfect landscaping materials for your property, don't hesitate to contact us!
Customer Reviews

This place rocks! They have the best products around and carry organic top soil that is out of this world. I have used their soil on all of my garden and even though I have a short growing season I have had excellent crops every year since I found Sandee's.
So far so good. We got 1 cubic yard of their black
Organic mulch. It's easy in-we brought our own truck and they loaded it right up for us. The quality looks good and hopefully it will lead to a great garden. My husband has his eye on a few of their rock and other landscaping materials.
We were very pleased with the product and service we received. They were there to deliver within two hours of ordering. I have used Sandee's in the past and was very happy with everything.
Great place for big boulders. Went there to find some boulders for a landscaping project. Great selection and not a bad price. The staff is super helpful as well.
Excellent place for landscaping materials with friendly great service.