Skip to Content
Landscaping Materials Delivery in Ogden, UT
We Are Committed to Helping You Achieve a Beautiful Yard
Whether you are operating a successful business or maintaining a home, appearances matter. Your yard needs to look its best, so Sandee's Soil & Rock will deliver landscaping materials straight to your door. We have been serving customers in Ogden, UT and throughout the surrounding area for nearly 20 years. Our team offers a wide array of high-quality landscaping materials from the region's top providers. You can rest assured that you are getting the best available decorative rocks, topsoil, sand, and more when you work with us. To make matters simpler, we will bring them to you. You need not worry about renting a truck or borrowing one from your friend. We have a fleet of vehicles that can minimize your legwork. When you are ready to beautify your property, call us to learn more about landscaping materials delivery in Ogden, UT.
Sandee's Soil & Rock Offers Many Landscaping Materials
Every yard is unique. Your presentation will be significantly different if you are accentuating a patio or garden than it would be if you are beautifying a storefront. But the experts at Sandee's Soil & Rock are prepared to assist in any scenario. Our team is committed to helping you enhance your yard, and we have the expertise to help you do so. We will carefully and thoroughly explain our affordable landscaping options and why some may be better than others for your purposes. We will also provide variety within each category to help highlight your property's best features. Our assortment of high-quality landscaping materials includes:
Our Team Delivers Straight to Your Door
After you have selected red lava decorative rocks to accent your flowerbeds or premium topsoil to help your plants and trees thrive, you need a way to transport the products to your property. If you are without access to a vehicle that can get your landscaping materials from our Ogden facility to your home or office, have no fear. We have a first-rate fleet of trucks ready to serve you. Sandee's Soil & Rock is happy to offer convenient landscaping materials delivery services for all of our aggregate products. Our fleet features trucks of all sizes, so whether you are a commercial landscaper or an at-home do-it-yourselfer, we can bring your load right to your door. We ensure each truck is clean before loading it, meaning you will never find any debris or foreign objects mixed in with your landscaping materials. Let us know a delivery time that works best for you, and we will arrive promptly.
We Make Obtaining Landscaping Materials Easy
If you have a truck or access to one, you do not have to utilize our helpful delivery services. Perhaps you want to visit us on your own. We have convenient hours throughout the spring, summer, and fall, and we will happily schedule an appointment to meet with you during the winter months. No matter when you decide to begin a landscaping project, we will be ready for you.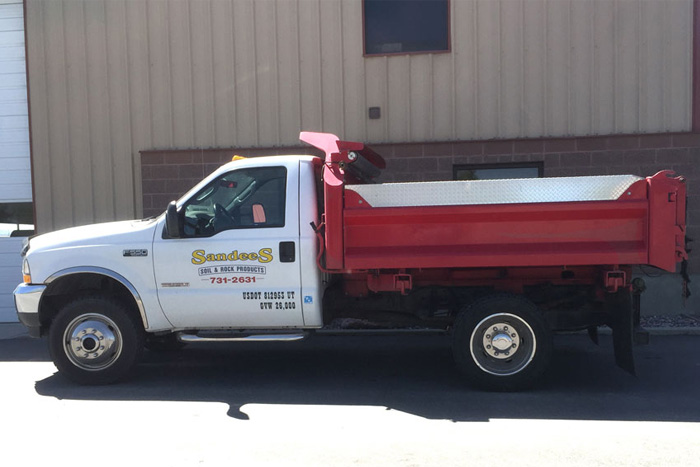 When you find the materials you need, we can load your truck on the spot. We can even help you determine how much product you will need with our trustworthy materials calculator. Swing by today to jumpstart your landscaping project.
Contact Us Today to Schedule a Delivery
The appearance of your yard can go a long way in attracting customers to your business or beautifying your neighborhood. Sandee's Soil & Rock wants to ensure you have top-quality landscaping materials to perfect your presentation. To help facilitate this, we offer landscaping materials delivery services to customers throughout Ogden, UT, and the surrounding area. You can rely on our fleet to transport your products efficiently and on time. Contact us today to schedule your landscaping materials delivery.
We Can Deliver to Your Home or Business