Skip to Content
Decorative Rock in Ogden, UT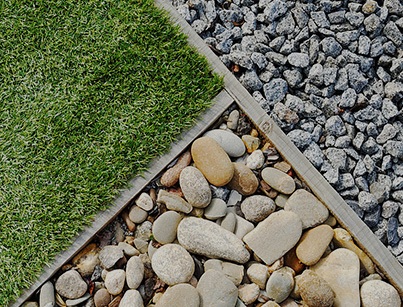 The benefits of landscaping with decorative rock
Give your garden, yard, or landscaping an upgraded look when you use stylish decorative stones in your landscaping design. While topsoil is needed for your plants and shrubs to thrive, that can leave your outdoor areas looking drab, flat, and featureless. Decorative rocks are not only aesthetically pleasing, but they also reduce soil moisture, which can help your plants grow better; and since these stones don't decompose you, won't have to worry about replacing them anytime soon. We carry a huge inventory of quality rocks, gravel, sand, soil, and bark to raise the aesthetic appeal of your outdoor spaces, and we're happy to offer bulk landscaping rocks for your landscaping business. Connect with our team online or in our Ogden, UT, store to learn how we can best serve you.
Signature pieces for a unique look
Decorative rock has become a common landscaping material due to its practicality, durability, and aesthetic appeal. We offer a vast selection of quality decorative rocks and stones that can add color, shape, and beauty to your outdoor spaces. Our inventory of decorative landscaping stone includes:
Lava rocks – rough, porous, and charcoal in color
River rocks – smooth, multi-color, and up to 5" in diameter
Red rocks – beautiful color and design details that occur naturally
Marble chips – these small marble fragments offer pearly white coloration and add a clean and classic look to your garden.
Boulders – these large rock pieces make an excellent focal point in any garden
We help you identify the right small and large landscaping rocks to give your outdoor spaces a stunning new look.
Affordable, hassle-free deliveries
Whether you're looking for rock and gravel for driveway rock layouts or you want signature stone pieces to accent your yard, we offer affordable hassle-free deliveries of all of our products. Our haulers can carry almost any amount to your location quickly and safely. Our sales team is knowledgeable and can provide expert guidance for landscape design. When you want to buy rocks for landscaping and need affordable delivery, there's no better choice than Sandee's Soil & Rock.
Contact us for efficient landscaping deliveries!
*Minus means rocks of the listed size or smaller due to screening
*All materials have fines and/or are dirty due to crushing, moisture and trucking procedures

Truck Size
Light Material
Heavy Material

Truck Size

1/2 Ton Short Bed 1500 or 150

Light Material

1.5 yards

Heavy Material

1 yard

Truck Size

1/2 Ton Long Bed 1500 or 150

Light Material

3 yards

Heavy Material

1 yard

Truck Size

3/4 Ton 2500 or 250

Light Material

3 yards

Heavy Material

1.5 yards

Truck Size

1 Ton 3500 or 350

Light Material

3 yards

Heavy Material

2 yards
All Our Materials Are Measured by Cubic Yard
We Can Deliver to Your Home or Business