Skip to Content
What Do Ogden, UT Property Owners Want to Know About Us?
Sandee's Soil & Rock Provides Landscaping Materials in Utah
Established in 2001, Sandee's Soil & Rock has been providing convenient landscaping services to property owners for nearly two decades. As a company that started with only six products and one dump truck for deliveries, we're proud to say we now offer more than 40 products and a wide range of truck options to meet our customers' needs. Anyone who knows about us will tell you that our greatest satisfaction comes from delivering the products and services that make homes and businesses in our community to the next level. Contact us and we'll help you find the very best landscaping materials in Ogden, UT.
About Our Wide Variety of Landscaping Materials
We are a family-owned business, offering a large assortment of landscaping materials to meet your aesthetic and functional needs. Because curb appeal is so important, we work hard to provide the goods and services that set our customers' properties apart from the other homes and businesses in the area. The products we offer include:
Decorative Rock: Often an ideal choice for landscaping your yard, natural stones reduce moisture in the soil, while adding color, depth, and focal points to your garden. We've got a wide variety of shades, hues, and styles of natural aggregates, and we can help you select the right amount to meet your needs.
Topsoil: Topsoil, the nutrient-rich upper 3-10 inches of the earth's surface, is important for encouraging healthy, long-lasting plant growth. We offer some of the finest topsoils in the region, making it an excellent choice for growing shrubs, trees, and other plants that will thrive when planted in this decorative landscaping option.
Bark: Bark is the most beneficial type of mulch, and at Sandee's Soil & Rock, we utilize high-grade bark mulch to enhance flowerbeds, walkways, trees, scrubs, and other aspects of a property's landscaping. Our bark mulch is made from tree bark shredded into fine, medium, and large pieces, adding texture and color to your landscaping.
Sand: A naturally occurring granular material, sand is composed of finely divided rock and mineral particles. It varies in texture and color and is frequently used in landscaping as well as the production of concrete. We offer a wide range of sand aggregates to fit any landscaping project.
Gravel: Gravel has been used in landscaping applications for decades, and colorful gravel ranging in sizes from ½ inch to 1 inch is perfect for creating decorative landscaping accents. Gravel not only offers a durable top cover for sod but also allows for aeration and water solubility into your soil. We provide a variety of rock and gravel, perfect for landscaping, driveways, pathways, or RV pads.
Concrete: Our calibrated concrete plant offers quality concrete mixes, cart rentals, and aggregates to ensure your next construction project goes off without a hitch. Our ready-mix concrete options are an exceptional choice for paving sidewalks, pathways, private drives, curbs, RV pads, home foundations, and more. Our towable concrete carts offer easy concrete pouring and can be towed by most large trucks.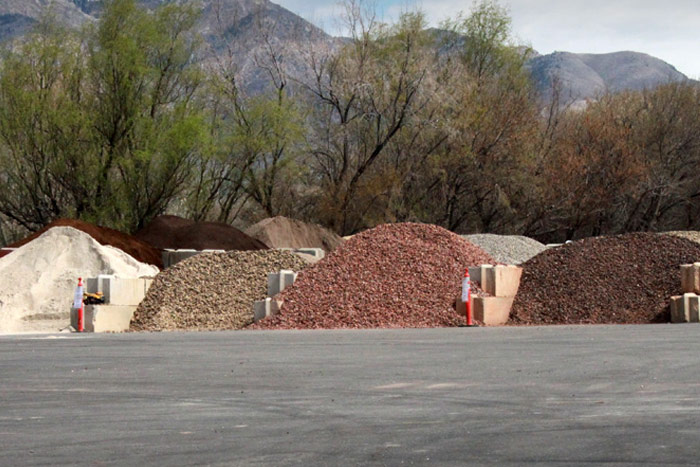 Reliable Delivery of Landscaping Materials and Services
Ask the locals about us and they'll tell you we're the preferred choice for high-end landscaping materials because we're reliable and experienced. We pride ourselves on our work ethic, and our considerate, friendly, respectful team treats each customer's landscape as if it were our own. We offer a broad, cost-effective selection of materials in one place and work hard to simplify your yard care experience. You can utilize our materials calculator to determine exactly what you need, and our helpful staff is happy to answer your questions. We even offer delivery, right to your door.
Contact Us for Landscaping Materials in Ogden, UT
When you're ready to beautify the exterior of your Ogden, UT property, call the team of experts at Sandee's Soil & Rock. We've spent nearly two decades building a reputation for excellence, and we work hard to provide caring and thorough customer service, as well as the very best landscaping options. Contact us today, and you'll find out why our customer reviews say such nice things about us.
All Our Materials Are Measured by Cubic Yard
We Can Deliver to Your Home or Business