Skip to Content
Ogden UT's Landscaping Gravel Specialists
Sandee's Soil & Rock Supplies Locals with Landscaping Gravel
When you need rock and gravel for landscaping, driveways, pathways, or RV pads, you can rely on Sandee's Soil & Rock to deliver the right amount for a great price. For nearly 20 years, we have been locals' first choice when it comes to optimal customer care and landscaping services. We carry a vast selection of larger gray gravel for aesthetic landscape design, down to pea gravel that's ideal for paver stones, dog runs, and colored gravel water features. It is our mission to provide our customers with quality aggregates, friendly and knowledgeable services, and reliable deliveries. Our team will ensure you have the landscaping gravel and materials you need quickly, affordably, and hassle-free.
*Includes includes rocks of the listed size and smaller due to screening.
*All materials are dirty due to crushing, moisture and trucking procedures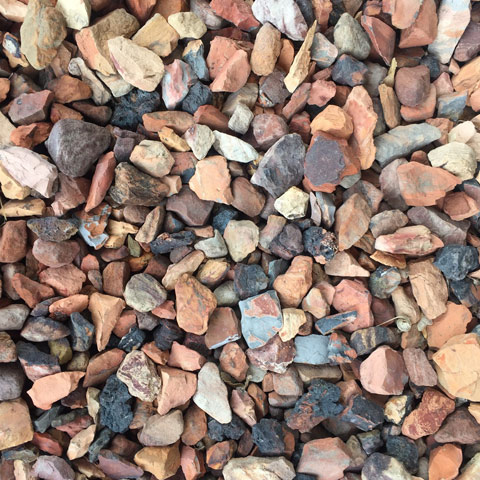 Decorative Landscaping Options
Colorful gravel ranging in sizes from ½ ″ to 1″ is ideal for creating decorative landscaping accents. Gravel has been used in landscaping applications for decades and not only offers a durable top cover for your sod but also allows for aeration and water solubility into your soil. We offer a large selection of quality decorative gravel for cost-effective prices. We can efficiently deliver our landscaping materials right to your worksite or home property for peak efficiency. At Sandee's Soil & Rock, we strive to offer the finest aggregates on the market, and we'll ensure you're more than satisfied with your purchase.
The Benefits of Landscaping with Gravel
Gravel is one of those landscaping materials that is popular due to its versatility. With so many shapes, sizes, and colors to choose from here at our warehouse, you're bound to find the perfect fit for your project. Gravel has the following benefits:
A bark mulch substitute – If the look of mulch isn't exactly the aesthetic you're going for, gravel is excellent for preventing evaporation from the soil surface and won't budge during heavy winds.
Drainage/erosion control – Gravel can be used at the bottom of flower pots for an effective drainage system. If you have places on your property prone to soil erosion, gravel can be spread out among these locations to prevent the process altogether.
Ideal for patio bases – Our road base gravel is excellent for using under your new brick patio, fountain installation, or gazebo. A finely mixed processed gravel is ideal for compaction, making it perfect for this type of application.
Increasing walkway aesthetics – Gravel is a great choice for walkways. We opt for a finer gravel for this type of application, because the smaller the gravel pieces, the easier and more comfortable it will be for you to walk on. We'll help you determine the right size and texture for your walkways gravel.
Excellent for driveways – Gravel can be used for your driveway whether you want it crushed and used in a concrete mixture, or simply laid as a loose drive material. A driveway requires a few layers of gravel to provide the proper amount of stability for vehicles, so we'll help you determine the right amount for your project.
Provides beautiful accents – With so many types of gravel, the shapes and colors can offer a beautiful accent to your current landscaping. And you won't be sacrificing on functionality! Gravel absorbs the heat of the sun, keeps soil cool and moist, and weeds are easy to pull from this material.
Driveway, Pathway, and RV Pad Solutions
As Ogden's leading gravel company, we're proud to supply small business owners, contractors, and residents with bulk gravel aggregates for driveway and pathway paving, as well as RV pads to meet all your needs. Our small gravel ranges in size from ½ ″ to ¾ ″ and is the best gravel choice for paver stones, walkways, sidewalks, and private drive paving. We can supply you with enough gravel for any sized project and deliver it to your worksite when you need it most. We source all our gravel from quality suppliers, and we're happy to help you select the right aggregates based on your needs. Find out more by contacting us today.
Quality Gravel for A Fair Price
Whether you're in the market for arena sand, pea gravel, river rock cobble, or topsoil for planting, our warehouse offers the broadest range of quality aggregates. We specialize in supplying both decorative gravel and small-sized gravel for paving, and we pride ourselves on providing the best gravel for driveways in the region. Whether you're tackling a DIY weekend project, or you run a paving or landscaping service, we can ensure you have the materials you need to do the job right. We also offer fast, convenient, and affordable gravel and aggregate delivery to almost any location in the state. We've served business owners and homeowners for 19 years, and we'll strive to build a lasting relationship with you as we fulfill your gravel needs. When you want affordably-priced gravel, sand, bark, rock, stone, or topsoil accompanied by expert customer service, there's no better option than Sandee's Soil & Rock.
Contact Us Today for Landscaping Gravel!
For nearly two decades, we have been providing gravel and other landscaping materials to residents all across Utah. We take pride in being locals' premier choice for high-quality materials accompanied by superior customer care. We know this kind of yard work can be a major undertaking, which is why we take all the hard work out of it for you with our comprehensive services. When you're ready to enhance your property through a wide variety of decorative landscaping materials, go ahead and give us a call. You can even pull your vehicle right up to our lot, and we'll take care of you here at Sandee's Soil & Rock. No matter the scope of your project, we're here to deliver quality solutions to enhance your commercial or residential property. Connect with our team online or visit our warehouse in Ogden, UT today.

Truck Size
Light Material
Heavy Material

Truck Size

1/2 Ton Short Bed 1500 or 150

Light Material

1.5 yards

Heavy Material

1 yard

Truck Size

1/2 Ton Long Bed 1500 or 150

Light Material

3 yards

Heavy Material

1 yard

Truck Size

3/4 Ton 2500 or 250

Light Material

3 yards

Heavy Material

1.5 yards

Truck Size

1 Ton 3500 or 350

Light Material

3 yards

Heavy Material

2 yards
All Our Materials Are Measured by Cubic Yard
We Can Deliver to Your Home or Business