Skip to Content
Landscaping Materials in Ogden, UT
We Are Ogden's Leading Landscape Material Supplier
Maintaining a beautiful, eye-catching yard requires much more than watering the plants and cutting the grass regularly. You also need high-quality landscaping materials like the ones you will find at Sandee's Soil & Rock. For nearly two decades, our team has been the choice supplier of landscaping materials for commercial and residential property owners throughout Ogden, UT and the surrounding area. We take pride in helping you achieve the look you want, and we stop at nothing to do so. We provide premium topsoil, gravel, decorative rocks, and more to ensure your yard looks its finest. Our team will even deliver these materials straight to your door. Whether you are a professional landscaper or someone who dabbles in do-it-yourself projects, Sandee's Soil & Rock can provide the landscaping materials you need at an affordable price. Call us today to learn more.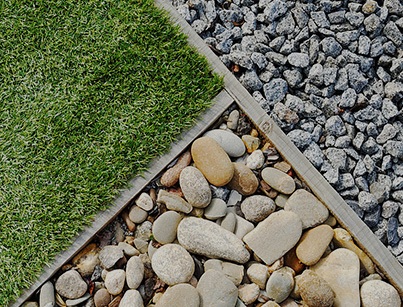 Our Team Can Help Beautify Your Property
The professionals at Sandee's Soil & Rock are committed to your satisfaction. Not only do we supply high-quality bulk landscaping materials in Ogden, UT, but we also extend our expertise to help beautify your property. Our family-owned business provides caring customer service. We understand how passionate you are about the appearance and utility of your landscaping, and we want to ensure you get the most out of our products. Our experienced team members will communicate to you the best possible materials for your yard so that it can become the envy of the neighborhood.
We Offer A Wide Range of Landscaping Materials
Our landscaping materials are sourced from the region's leading providers, so you can rest assured they will be both beautiful and practical. Our affordable products are perfect for all styles of patio and yard landscaping. We will help you understand what products will conserve water best, recreate the gardens you see in your favorite magazines or produce fashionable walkways throughout your property. The various styles of landscaping materials we provide include:
Decorative rock – Utilizing decorative rock in your yard is an excellent way to enhance the look of your landscaping. It will limit the moisture your soil retains to add color and depth to your yard. Choose from among white marble, large blue sage, red lava rocks, and much more.
Topsoil – To help ensure the healthy growth of your shrubs, trees, and plants, invest in one of our many topsoil solutions. We will explain their differences and how they can help your plants thrive.
Bark – Yard care is made simple with high-quality bark materials to surround your plants or trees and enhance your curb appeal. We offer shredded bark, chocolate mulch, and playground chip, among other options.
Sand – To satisfy customers creating an outdoor recreational area or Zen garden, we supply a wide variety of sand. Let us know about your project so that we can suggest arena sand, coarse sand, fine sand, or road base.
Gravel – For exceptional erosion control and striking walkway aesthetics, consider using gravel. We supply gravel of all sizes to meet your needs.
Concrete – We also offer high-quality concrete materials. Our ready-mix options are ideal for paving sidewalks, driveways, home foundations, and more.
Sandee's Soil & Rock Will Even Deliver to You
It is not enough just to have a warehouse full of landscaping materials. Once you choose the best products for your Ogden-area home, you need a way to get them to your doorstep. Luckily for you, Sandee's Soil & Rock has that covered. We offer reliable delivery services to homes and businesses throughout the region. We have trucks of all sizes, so we can deliver any size load to you. Furthermore, we clean each vehicle between deliveries, so you can rest assured your landscaping materials will not be mixed with any debris or foreign objects. We promise to deliver your landscaping materials exactly how we would want to receive them.
Contact Us for Landscaping Materials Today
Your yard's appearance is among the first elements your neighbors, patrons, or passersby will notice about your residential or commercial property. It should be in pristine, beautiful shape. To help ensure that is the case for homeowners and business owners throughout Ogden, UT, and the surrounding area, Sandee's Soil & Rock provides a wide range of high-quality landscaping materials. Depending on your needs, choose from premium topsoil, gravel, decorative rock, and more. Our team of experts will help you decide what should work best given your space. We will also handle most of the legwork. You will not have to borrow a truck just to take advantage of our products. We will deliver them to you at your convenience. Contact us today to get started.
We Can Deliver to Your Home or Business