Skip to Content
Ogden's Choice Landscape Material Supplier
Choose The Right Quality Landscaping Supplies from Sandee's Soil & Rock
Successful landscaping isn't just making the plant in your yard look its best; it involves utilizing premium topsoil, gravel, and decorative rocks to accent the look you want to produce. When you want quality landscaping rocks, gravel, topsoil, wood chips, and other materials, look no further than Sandee's Soil & Rock in Ogden, UT. We house a vast inventory of the most exceptional soil and rock aggregates in the state, and we offer easy delivery services that are affordable and hassle-free. Whether you're a professional landscaper or you want some decorative rock and stone for a DIY weekend project, we'll ensure you get what you want for a fair price. Contact us today for more information.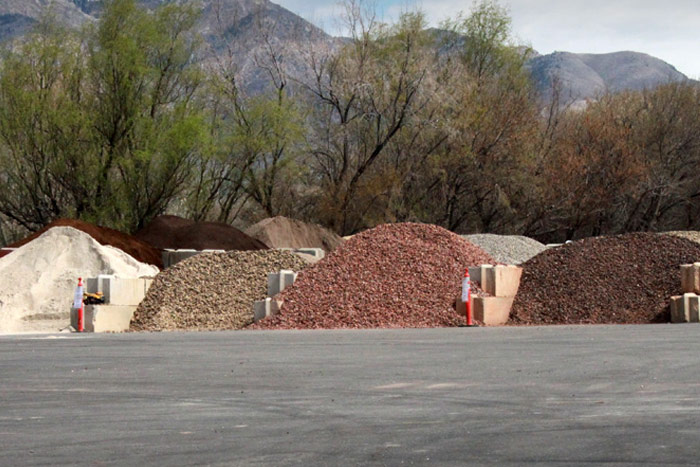 Quality landscaping materials
Decorative landscaping will not only raise your home's curbside appeal, but it can lower your water usage and utility bills. We offer a massive assortment of sand, gravel, decorative rocks, bark, and topsoil to give your yard and garden a signature look and drought resistance. For over 18 years, we've provided quality aggregate options for our customers, and we ensure they're delivered to your location quickly and safely. Our landscaping materials and supplies are sourced from top providers in the region, and we can special order any unique material you'd like to use. Contact us now to learn how we can best serve you.
Affordable patio and yard options
Whether you want to adjust your yard to allow less water usage or you want to recreate an English garden, we offer the right topsoil, sand, and aggregates to get the job done correctly. We carry a wide array of gravel, river stones, decorative rocks, quality topsoil and bark to match any style, and our haulers can have your new landscaping materials delivered to your home or business quickly and affordably. From river stones to wood chips and concrete aggregates, we supply you with the materials you need to create a unique patio or outdoor area. We've served the community of Ogden, UT, for years, and we'll ensure you're more than satisfied with our products.
Reliable delivery services
Finding the right soil, concrete, and gravel for your property is one matter, but getting it delivered can be a real challenge. We're happy to offer convenient truck hauler delivery of all of our aggregate products. We have the right size of truck for any load you need to deliver. We keep our vehicles clean and free of debris to ensure your product comes without any foreign objects mixed in, and we're happy to deliver just about anywhere in Utah. Whether you're putting in a new footpath, or you need quality landscaping materials for your business, we'll ensure you get the best possible price on our aggregates and soil. Ensure your next project goes off without a hitch by contacting the soil and gravel delivery experts at Sandee's Soil & Rock today.
Contact us today for more information!
All Our Materials Are Measured by Cubic Yard
We Can Deliver to Your Home or Business