Skip to Content
Easy Front Yard Landscaping Ideas in Ogden, UT
How to Landscape Your Front Yard Yourself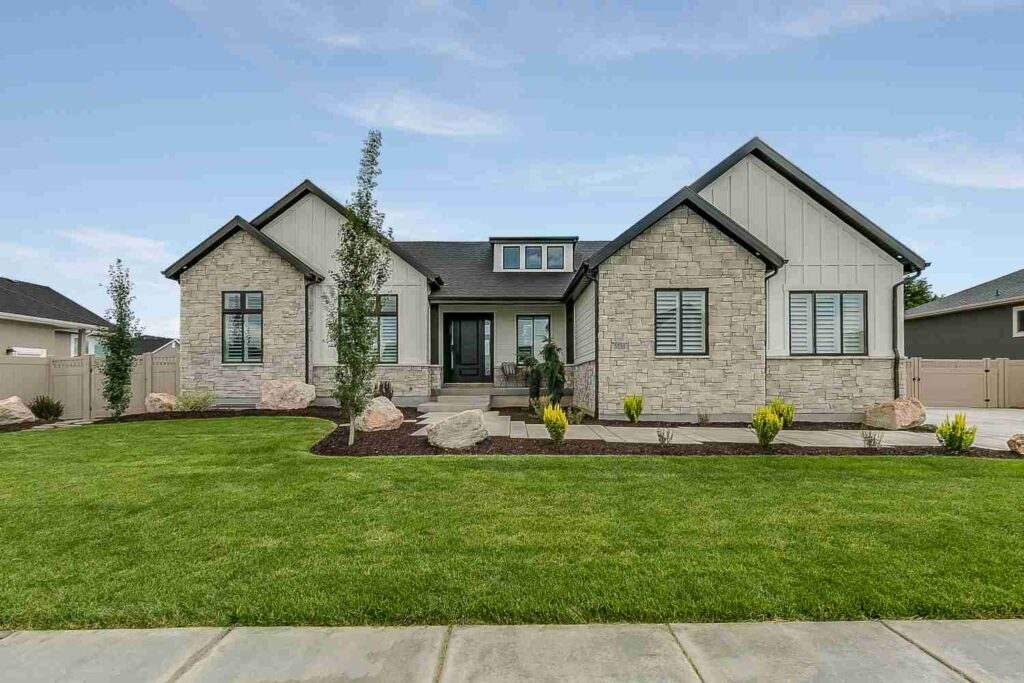 Sandee's Soil & Rock's guide to easy front yard landscaping ideas will boost the aesthetic value, functionality, and beauty of any home without breaking the bank. Whether you're a first-time homeowner or a seasoned pro, our expert DIY front yard ideas will help you transform your property into a stunning outdoor oasis that you'll be proud to show off. Plus, our front yard/sidewalk landscaping ideas are easy enough even for a beginner to tackle.
Get Creative Rock Features
If you are looking to switch up the appearance of your front yard in an elegant yet functional way, adding rock features may be the right choice for you! Rock features add a natural accent that is low-key yet flattering. This inexpensive addition also doubles as a valuable function as it can be used as a rock spillway for gutters to prevent mud, break up a bed, or create a seamless border.
Upgrade a Bed Border
Rather than restarting your garden, simply enhance it by upgrading a bed border. Refreshing your bed borders with natural stone, pavers, bricks, or any other landscape material can renew the vibrancy of your garden without breaking the bank. In addition, it still allows you to display your unique style.
Opt for Perennial Shrubs
For homeowners who love the appeal of flowers, but aren't interested in time-intensive maintenance requirements, flowering perennial shrubs are the perfect match. Perennials will come back each year, thereby amplifying the curb appeal of your home with colorful flowers that require minimal upkeep.
Garden Beds Around Your Mailbox
Be the proud owner of your street's prettiest mailbox by planting a garden bed around it! Personalize your mailbox garden in Ogden by picking out a cohesive border material, some reliable mulch, and plants and flowers that elevate the aesthetic value of your home.
Perfect Your Lawn Care Regimen
Sometimes, all your front yard needs is a perfected lawn care regimen. We all want to be that neighbor with stunning, lush green grass that looks like it came straight out of a magazine. Achieving it is as simple as tending to the foundation of your yard.
By regularly mowing, fertilizing, and watering your lawn, you can ensure that it stays healthy and polished. With a little bit of effort, consistency, and attention, you can have a lawn that will make your home the envy of the neighborhood.
Try Xeriscaping
Modernize your home while conserving water with a drought-tolerant xeriscaping garden. These smart gardens complement any home and do not require heavy maintenance or expenditure, as they require just a few plants native to your area and decorative rock to pull the look together.
Use Rocks by Adding a Gravel Path
Creating a traditional, affordable gravel path is a simple yet stylish way to enhance your home. This rustic-chic easy front yard landscaping idea is easy to install and provides a charming, low-maintenance option for homeowners looking to add a functional appeal to their property.
Let Us Help You with Your DIY Front Yard Ideas in UT
Whether you've decided on a gravel path or decorative rock garden, Sandee's Soil & Rock is here to ensure you get the high-quality materials and prompt delivery you need to have a successful finished result. Contact our landscaping experts to discuss your landscaping dreams, and let us help you make them a reality! We offer convenient hours at our Ogden, UT location.